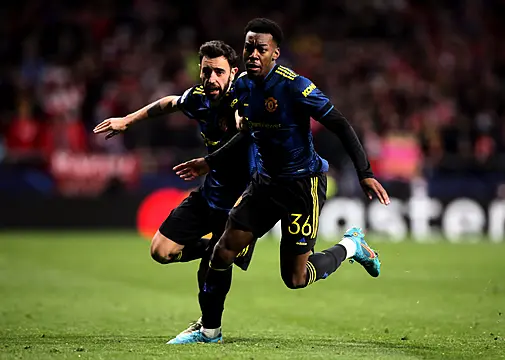 Ralf Rangnick wants other Manchester United players to take a leaf out of Anthony Elanga's book after the exciting teenage talent came off the bench to snatch a fortunate Champions League draw at Atletico Madrid.
Having secured a thrilling Premier League win at rivals Leeds on Sunday, the Red Devils stumbled in Spain and were facing defeat after Joao Felix's early bullet header.
United looked lifeless for large periods and lacked creativity at the Wanda Metropolitano, only for Elanga to come off the bench and score with their first shot on target.
The 19-year-old academy graduate's cool strike sealed a scarcely deserved 1-1 draw in the first leg of this last-16 tie and Rangnick hopes other players follow his example.
"Anthony, in all the games that he has played so far, just shows that he's playing with all the passion, all the fun and all the joy," Rangnick said.
"He's just enjoying himself on the pitch and he's fully aware of his strengths, his assets, his weapons. He's always trying to play and show those weapons. This is what he did again today. Not only the goal he scored, he had two or three great runs and whenever he did that you could all of a sudden see that Atletico had problems with this kind of approach. But we have to show that on other positions as well, so not only with Anthony Elanga or one or two other players. We just have to play like that on every single position and if we want to proceed to the quarter-finals in a couple of weeks at Old Trafford we have to play exactly like that."Elanga saved United with late equalizer in Madrid, but they need to play much better in the rematch at Old Trafford if they want to continue their journey in Champions League. United fans are optimistic. They have already started betting on winning in the rematch.